Feb 11, 2022
The Arctic Arts Summit brings together representatives of the eight Arctic countries and the Indigenous Nations of the circumpolar region. The Summit serves to strengthen and celebrate arts and culture in the North. 
The Canada Council for the Arts and the Government of Yukon will co-host the third Arctic Arts Summit in Whitehorse, Yukon, June 27-29, 2022. The 2022 Arctic Arts Summit will connect participants across the North with a program focused on artist-driven exchanges and Indigenous voices. Six months of digital programming will invite broader audiences to participate in conversations and exchanges leading up to the in-person event.
The Digital Program
Prior to the Summit, participants are invited to explore and interact on the Arctic Arts Summit website with media, live-streamed events, online galleries, film series, artist profiles, and more. A place to enjoy creations, exchanges and conversations from across the circumpolar arts and culture sector, the website encourages visitors to engage with 2022 Arctic Arts Summit themes and discover more with guest curator spotlights. 
With new content added regularly over 6-months, it would be critical that we make it easy for users to explore themes or find specific topics, so we implemented faceted search functionality. This powerful, yet simple, tool allows visitors to quickly narrow down results by applying multiple filters associated with each different attribute of the content.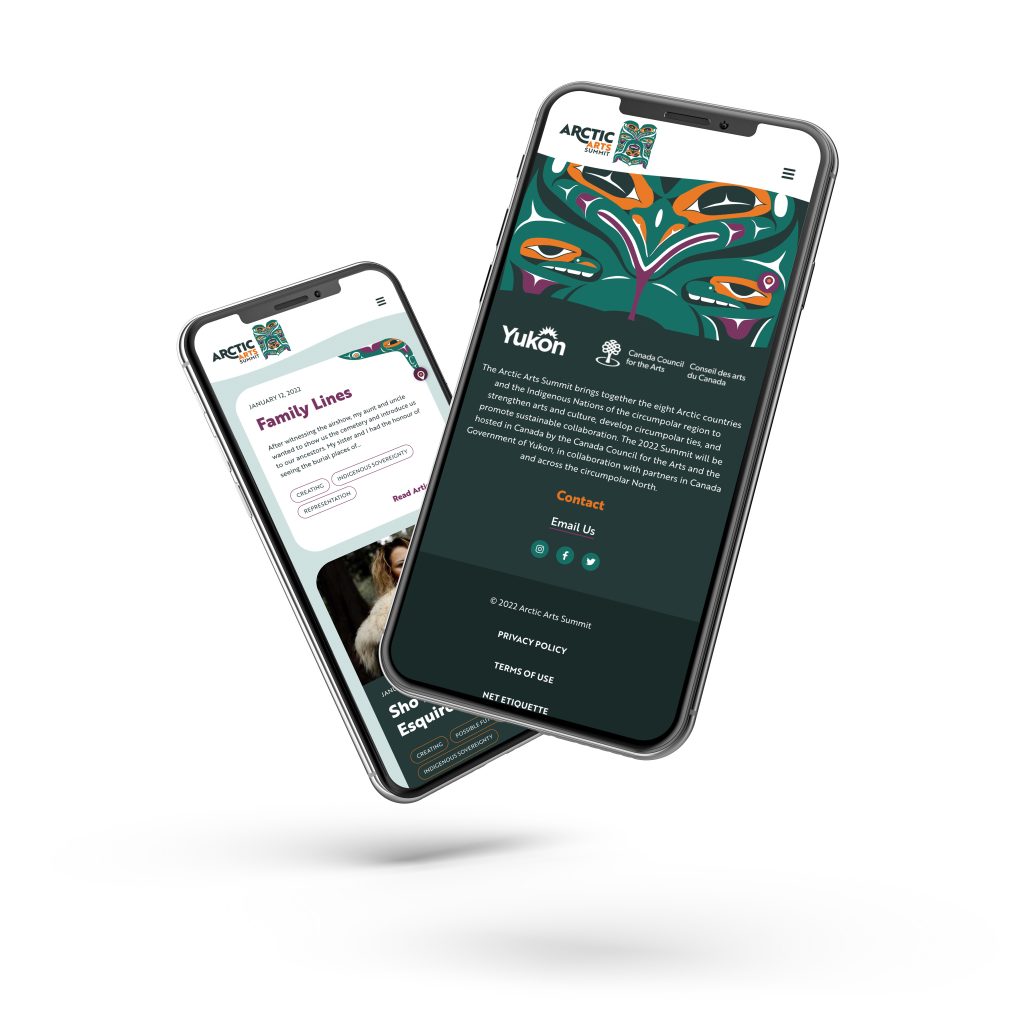 Design + Development
Drawing inspiration from the logo design by Blake Shaá'koon Lepine, our vision was to bring the experience of the summit to life through powerful imagery, rich colours and design elements that are reflective of arts and culture in the North. Our web development strategy allows us to build a visually rich user interface while maintaining accessibility to a wide range of users including those with low-bandwidth internet access.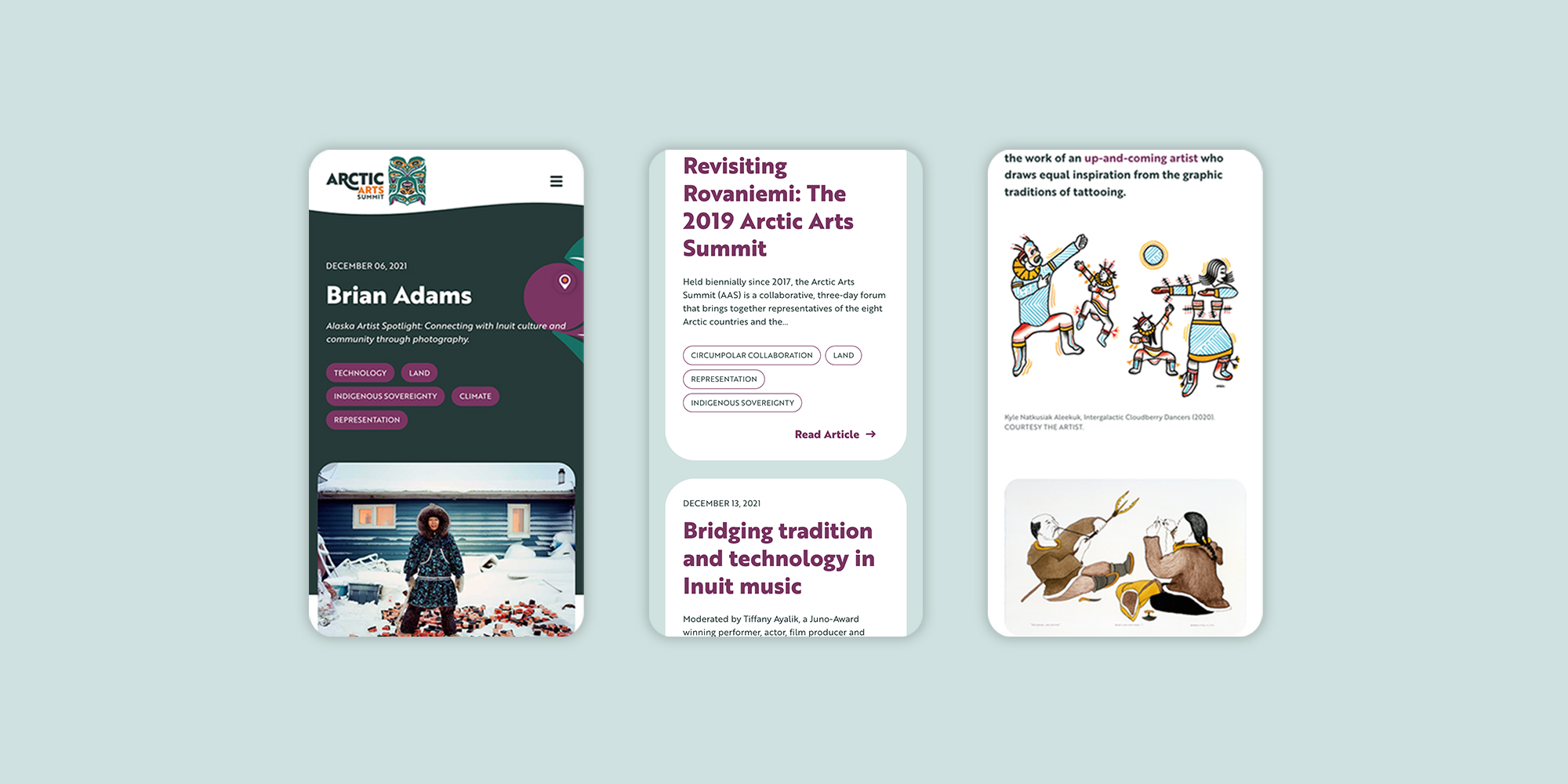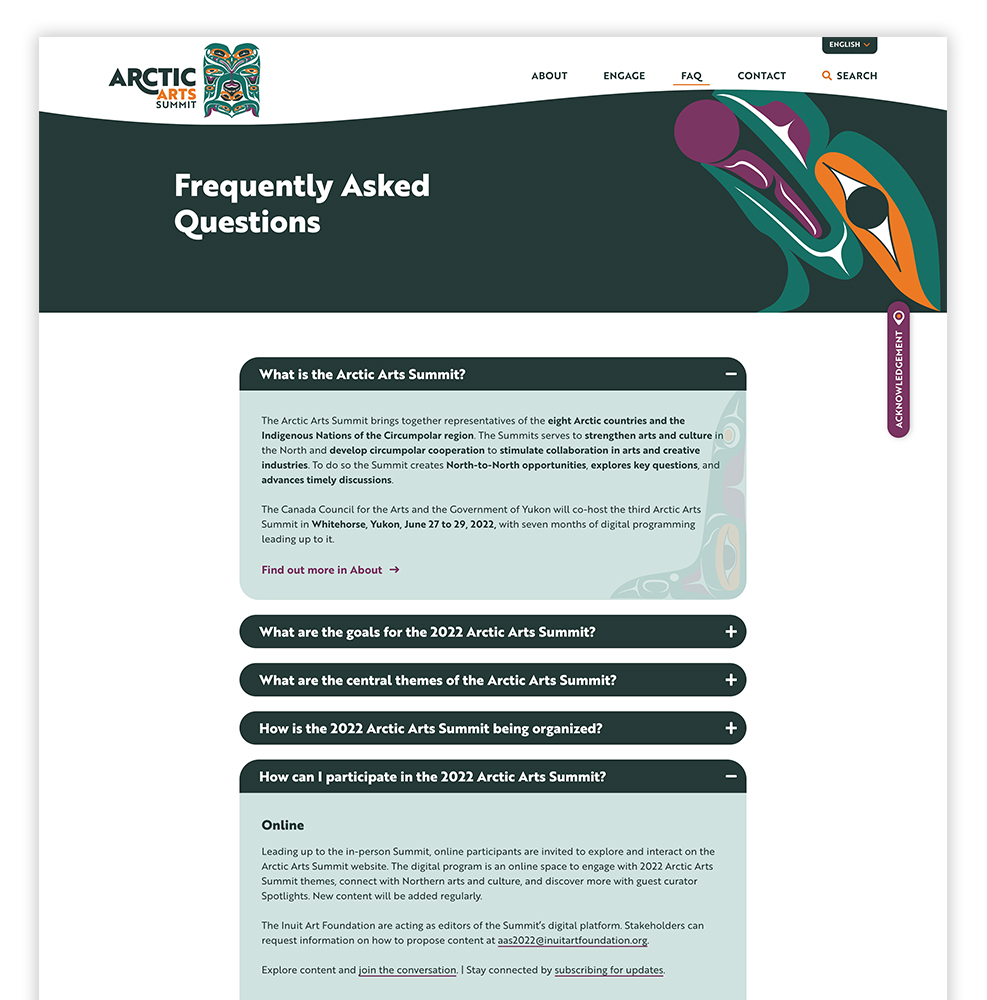 Experience 
The primary purpose of the website is to create a space that fosters engagement, conversation, knowledge-sharing and connection within the arts community of the northern circumpolar region, and in turn, strengthen Indigenous voices and artist-driven initiatives. Also an extension of the in-person summit, the website reaches a broader audience making the summit an experience that can be accessed by anyone globally.
Content 
The Engage page allows for rich content publishing, featuring artists and their work, stories, events and knowledge. The article feed presents tiles containing images, story titles, excerpts and summit theme tags making it easy to browse content, or you can find specific areas of interest using the faceted search tool mentioned above. Traditional Indigenous languages Inuktut and Southern Tutchone were integrated where translation was possible.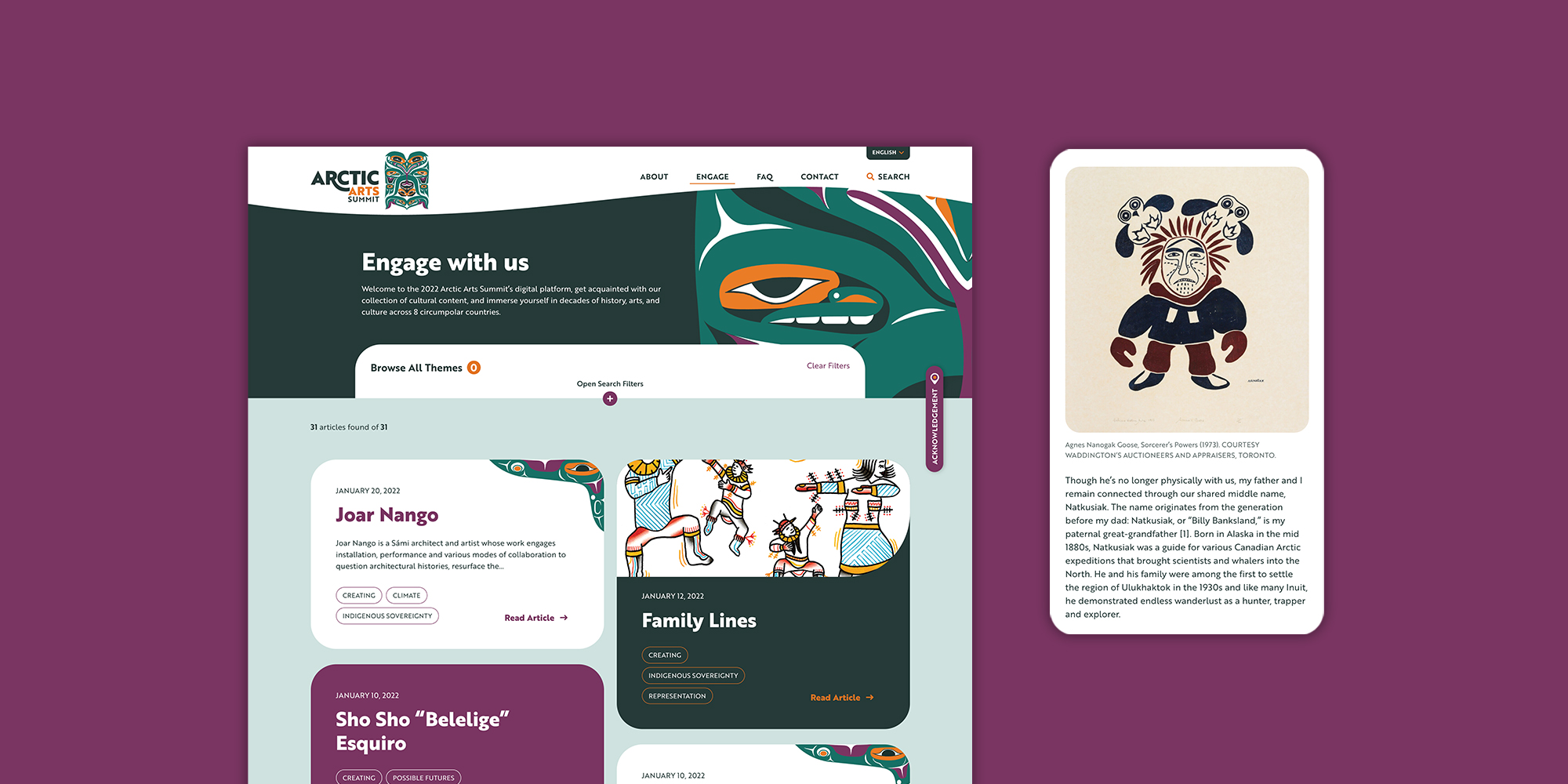 The launch of the website in January 2022 was hugely successful and was celebrated by all eight participating countries as a beautiful, user-friendly tool that creates an immersive and inclusive experience for all participants. As the in-person event approaches, the content will continue to grow, further deepening the stories and resources available. Experience the 2022 Arctic Arts Summit for yourself.