Mar 8, 2021
Over our 10-year relationship with Canadian Geographic and Canadian Geographic Education, we have collaborated on numerous programs and initiatives for other organizations — helping connect Canadians with important aspects of Canadian geography such as culture, sustainability, Indigenous reconciliation, and the nature that surrounds us all. Finally, we got to help their parent organization, the 90-year old Royal Canadian Geographical Society (RCGS), elevate their own online profile.
An update to the RCGS website was long overdue as it was no longer an accurate representation of the organization's evolving brand, nor forward-thinking ambitions in the digital space (its last major overhaul was in 2005).
The primary objectives for the new site are to:
Educate visitors about who RCGS is and what they do;
Grow the RCGS community and increase engagement;
Connect visitors with Canadian Geographic initiatives;
Increase donations and sponsorships; and
Elevate the RCGS brand presence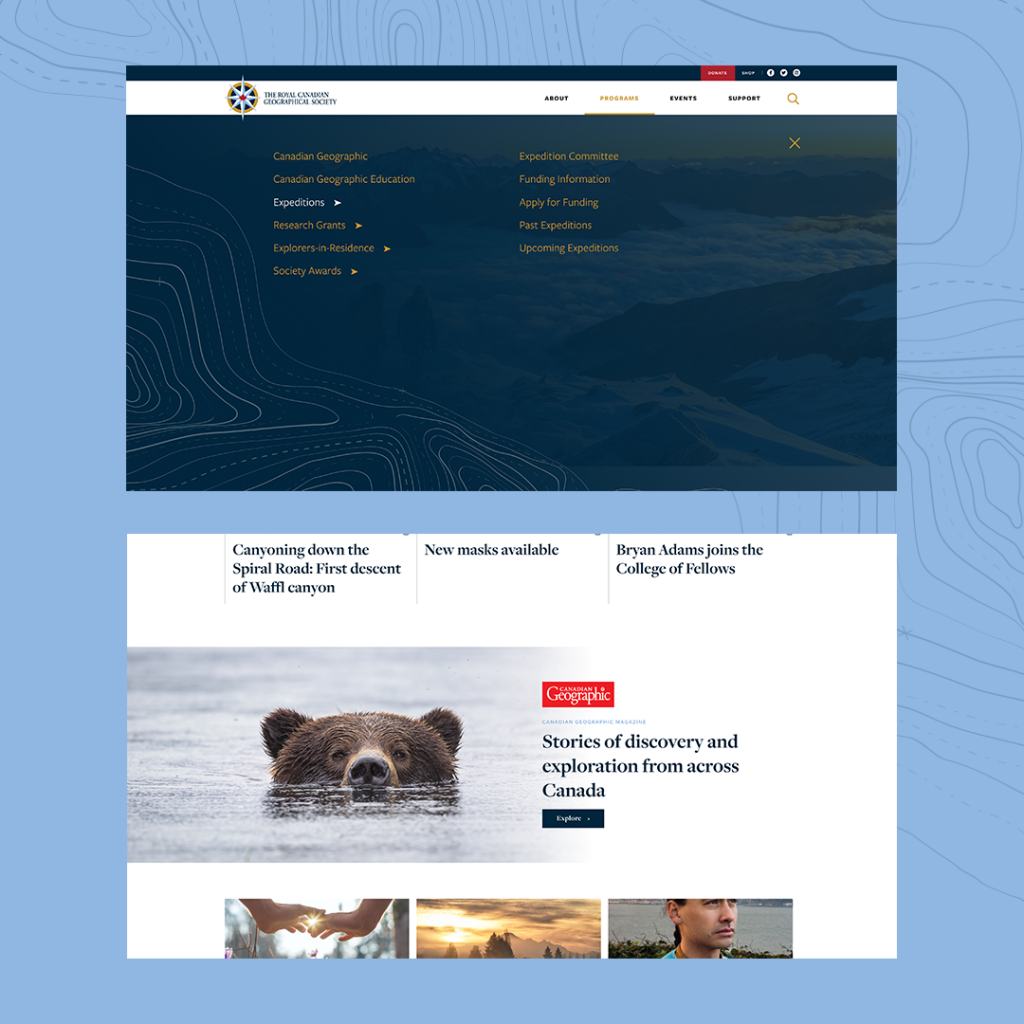 Our approach was to create a very visual website that leverages the extensive RCGS photo library to immerse visitors in the world of geography and exploration in Canada and focus on the core of the RCGS mission: Making Canada better known to Canadians and to the world through geography, education, and exploration.
Highlights include:
Impactful imagery to create a sense of exploration, and provide a taste of the vast and diverse landscape that is Canada
Increased opportunities for storytelling, and featuring news articles and blog posts on the home page
An Explorer's Gallery on the home page to feature explorers and expeditions supported by the Royal Canadian Geographic Society
Showcase for RCGS Explorers in Residence
Redesigning the site provided the opportunity to evolve the RCGS brand through the use of colour and supporting graphics, such as the topographic pattern, and using compass elements inspired by their logo as navigation arrows in galleries and second-level site navigation.
UX/UI highlights
Meets AA accessibility standards
Flexible content blocks allow for simple creation of custom pages
Full-screen, multi-level navigation
Full-screen imagery
Sophisticated typography system balancing serif and sans serif fonts
Animated elements throughout
And if you're really lucky, you'll happen upon the 404 page
We can't do it justice here, so go explore the Royal Canadian Geographical Society website for yourself and experience some of Canada's inspiring geography.